Be honest. In your personal life, how many phone calls have you screened this week alone because you didn't recognize the number? (Or maybe didn't want to talk with the caller.) Now, how many text messages have you left unopened for the same reason? 
If you're like 95 percent of people out there, you read every text within three minutes of receiving it. Your leads are no different: 90 percent of leads prefer texts to calls, according to findings from FranchiseHelp. 
The Veloce mobile messaging platform, released in February by Marlimar Mobile Strategies, helps home improvement professionals take advantage of these important stats by giving companies the ability to reach their leads via text.
"Don't change the methods you're already using to market to your leads," says Mark Highbaugh, Marlimar's CEO, "but add a texting component to those strategies. We commonly hear that adding Veloce communications has at least a 10 percent impact on the lead-to-demo rate for a company."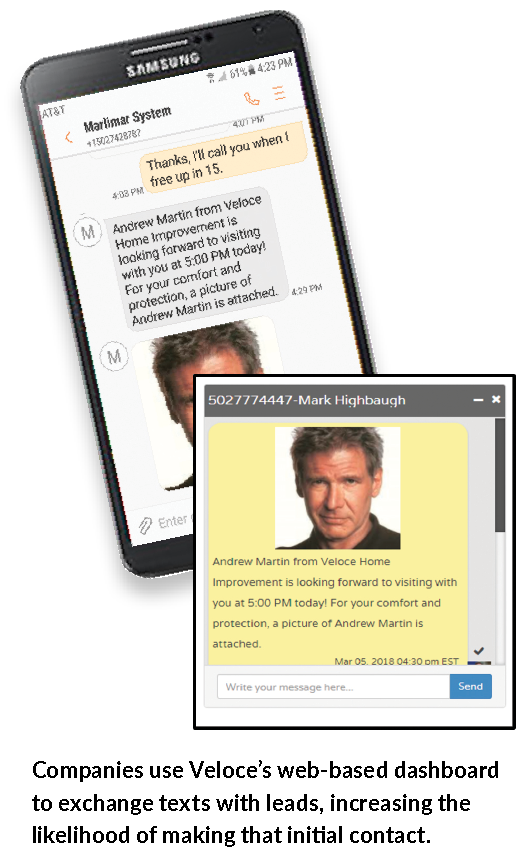 Using the Veloce platform, companies can create pre-scripted messages for their inside salespeople to use for contact with leads, and the texts can be customized for each lead as necessary. Veloce also authorizes company landlines for texting.
Multiple Uses
"I've heard of some companies that will make six phone calls to a lead in a single day, trying to connect with them," Highbaugh says. 
"Our service steps in the way of the that demand by delivering a message to a lead that has a virtually 100 percent read rate."
A salesperson uses the web-based Veloce platform to text leads, who can then respond with the necessary information, including pictures of the problem or proposed project. This eliminates unnecessary trips to a lead's home and helps speed up the process to scheduling a home visit. 
When a home visit is scheduled, you can text the client a photo of the sales rep going to their home, and once a job is completed, you can send a follow-up message asking homeowners to rate the work on a scale of 1 to 5. Any 4- or 5-star rating will send the customer to a review site (like Google Reviews or Facebook) to encourage them to rate your company where others can see that praise. 
Using Veloce also increases the likelihood of collecting final payments from customers who go dark right around a project's completion, when there's an outstanding balance. "Sometimes companies struggle getting that final payment out of a homeowner," Highbaugh says. "But texting is a way to make sure that we're getting a message to them that we know is almost certainly being read, and eliciting the response we need to collect that final balance."
Other Insights
Marlimar offers training to Veloce users so they can make the most the platform. "We're here to [provide] insight and guidance on the things like the best time to send a message or the practices that best elicit a response from customers," says Highbaugh.
Included in that training is compliance, which is key for companies looking to send out blasts to multiple numbers at once. "If a company wants to send big group messages, they can do that, but they need to know how to do that legally," Highbaugh says. "Taking a customer database and texting the the entire list with a marketing message can get them sued, so we help them stay compliant."
Pricing for Veloce varies depending on which features are selected, but the cost ranges from $150 to $5,000 per month.