Kevin Milbredt
Construction Operations Manager
Southern Cottage 
Lake Norman, N.C.
By eliminating floor squeaks, we're able to deliver a better product for the long term to our customers, and we've found Huber's AdvanTech subfloor adhesive makes a noticeable difference. Our framers and carpenters use the gun-applied polyurethane adhesive to secure the subfloor to the joists. It dispenses as a foam that quickly settles into a high-strength gel adhesive, and we now use it on all our jobs—both new construction and remodeling, no matter the job size. It truly gives you a better floor system without squeaks. We've actually used AdvanTech on several projects under extreme conditions and really put it to the test. It adheres to wet or frozen wood, Huber says, and the temperatures at which it can be applied is listed as ranging from 20° F to 105° F, though the lowest temperature at which we've used AdvanTech is 28° F.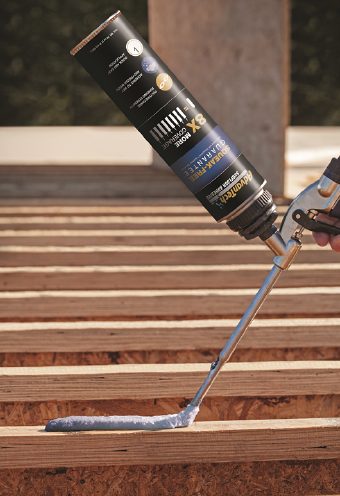 In the very first new-construction house on which we used it, we only nailed the floor with ring shank nails, and we got an unprecedented 18 inches of rain during the build. The entire first floor is hardwood, and you won't hear a single creak—let alone a squeak—anywhere in that house. 
On the first remodel in which we used AdvanTech, we literally shot it in every nook and cranny of the repaired floor area wherever we had new joists. Even though that was all dimensional lumber and not I-joists, it still did the trick. And the foam application made it much easier to get in all the hard-to-reach places and eliminated that sticky hand you end up with for the rest of the day when you're using conventional adhesives and trying to smoosh it into hard-to-get-at places. And it's definitely faster to install than conventional subfloor glue adhesive. 
As far as yield per can, AdvanTech produces more coverage (up to eight times, in fact) than conventional adhesives—according to Huber, one 24-ounce can yields 400 linear feet at a ½-inch-diameter bead. We've used the product on four new houses (which are the ones for which I would calculate yield, rather than for a remodel) and have had mixed results. Two of those houses performed the way they're supposed to as far as yield, and two took more cans than expected. That could easily be due to installation differences, since in those four houses, we had three different framing crews doing the work.
Product photos: courtesy Huber Engineered Woods