1. TrimJoist / Floor System 
The TrimJoist floor system is a hybrid of an open-web floor truss and a trimmable, wooden I-joist. It can be trimmed on the construction site, eliminating the need for custom-made floor trusses. Each joist has a 3.5-inch-wide nailing flange on the top and bottom, providing a non-squeak floor when properly installed. Joists come in 2-foot incremental lengths, ranging from 4 to 30 feet. They can be trimmed by up to 24 inches.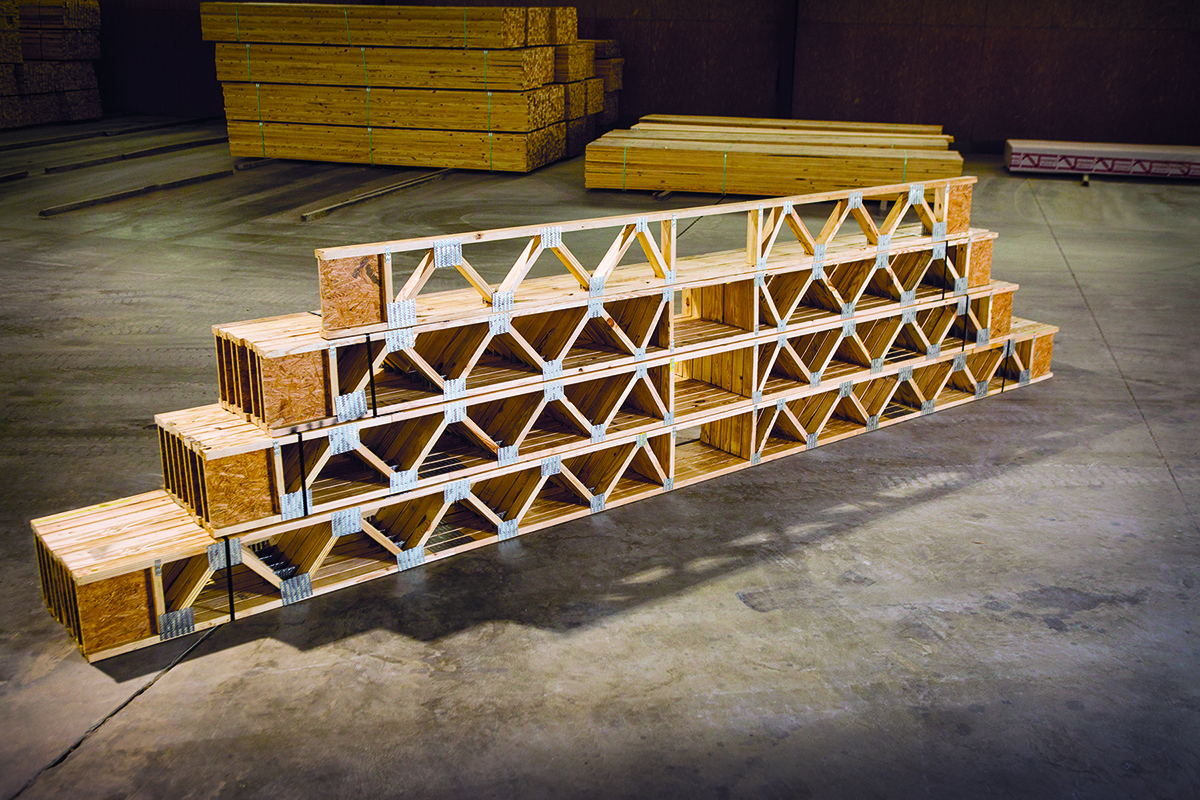 2. Caesarstone / Tile
Caesarstone engineered quartz offers the cool, tactile qualities of one of nature's strongest stones, and has passed granite in popularity as a countertop material. It is nonporous and durable, and resistant to heat, mold, mildew, scratches, and stains. Caesarstone pioneered the use of this material for kitchen countertops, bath vanities, fireplaces, walls, and furniture with a product that consists of up to 93% quartz. 
3. Emerson / Tile Heating System 
Emerson EasyHeat Warm Tiles Systems keep floors warm for less than a penny per square foot per day, operating on ordinary electric current. They can achieve up to 30% more efficiency than forced-air heating, depending on a home's insulation. The system works with ceramic, stone, and engineered wood flooring; can be easily installed over plywood, concrete, or cement backboard subflooring; and can be embedded in thinset or self-leveling underlayment.
4. RetroFoam / Foam Insulation  
RetroFoam is a non-adhesive, non-expanding polymer foam insulation, containing no solvents, petrochemicals, or CFCs. The foam is blown into place at 80 pounds of air pressure, flowing into even the smallest crevices and reducing the sound level of conversational speech by 75%. Tiny air bubbles in the foam create an R-value of 4.5 per inch, or up to R-16 for a 2x4 wall.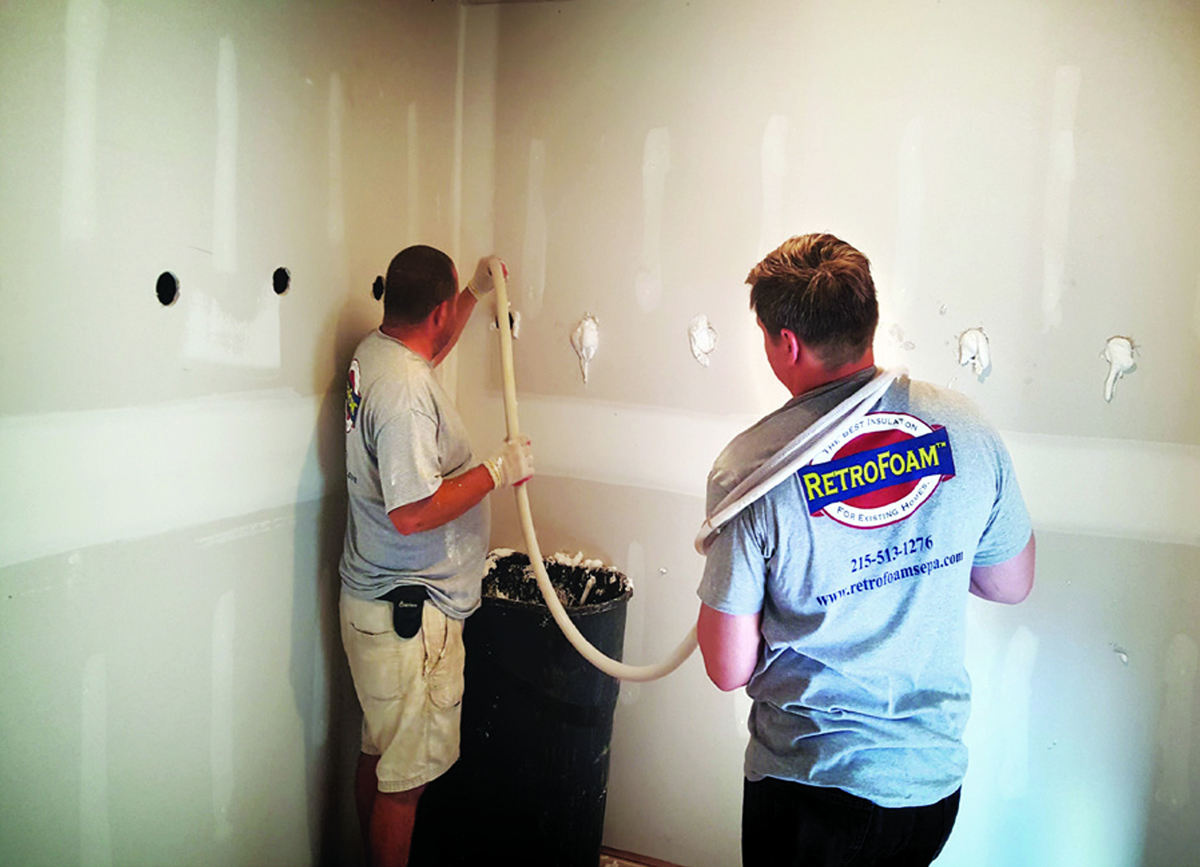 5. Mannington / Flooring Design 
New for 2017 are three hardwood flooring designs from Mannington that fit with the trend of light interiors: Iberian Hazelwood has multilayer hand staining and matte finish; Norwegian Oak has dual-stained planks and matte finish; and best-seller Normandy Oak has been updated with two light colors—Brûlée (shown) and Bistro. European-inspired Normandy Oak has planks measuring 7 inches wide and up to 7 feet long, lightly wire-brushed and dual stained to create subtle variations.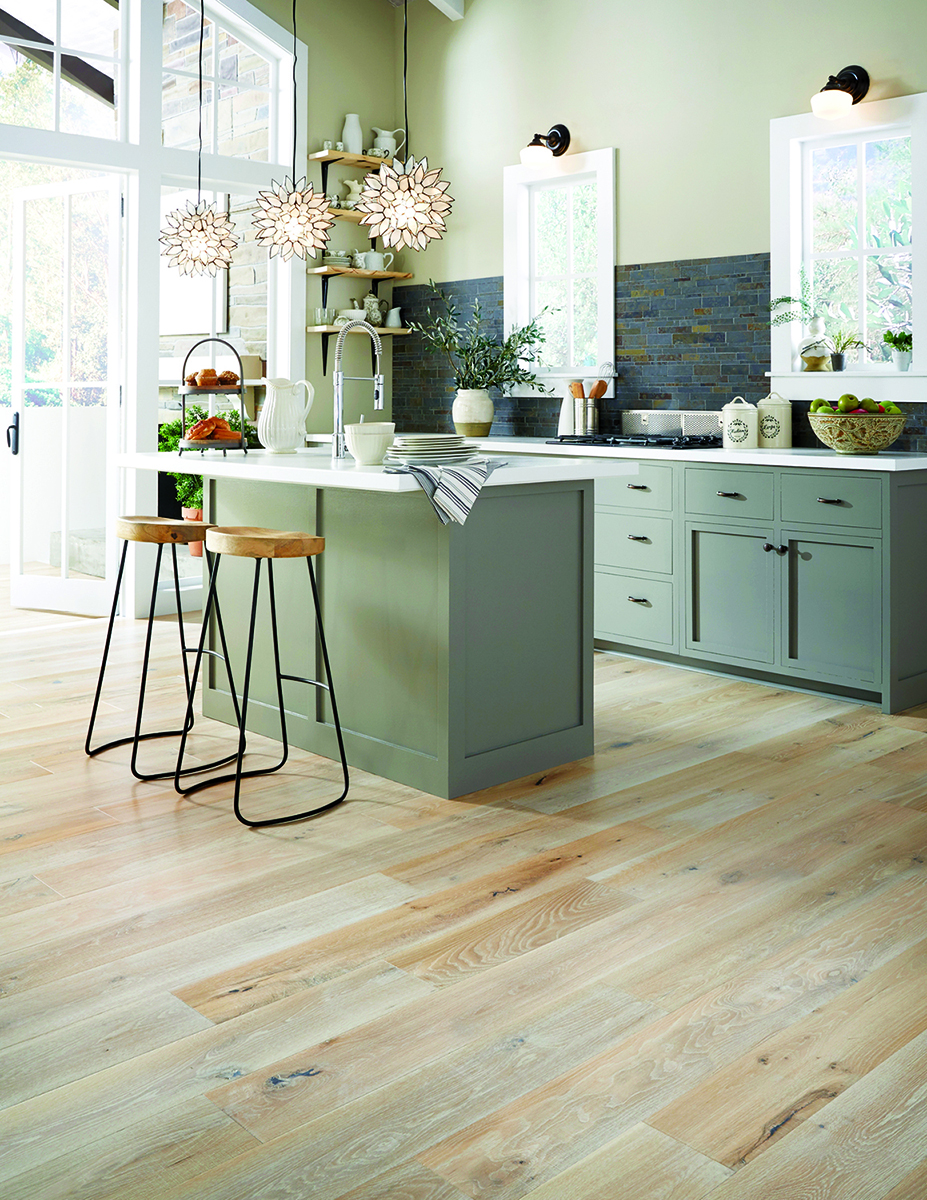 6. Mapei / Tile Mortar
Ultraflex LFT large-and-heavy tile mortar and thin-set mortar is Mapei's solution to the increasing popularity of large-format tile. Ultraflex is made with a high content of dry polymer that enables it to handle the extra weight of large tiles. It can be used for large-format and heavy tile and stone for interior and exterior floors, walls, and countertops. It is also available in a rapid-setting version, allowing grouting in 3 to 4 hours.
7. Rehmeyer Wood Floors / Rustic Flooring  
Rehmeyer Wood Floors specializes in refined rustic floors, with collections that address elements in the latest "urban farmhouse" design trend. The Pioneer Collection (shown) maximizes graining and character marks. Rehmeyer's other collections include Old Trail, whose hand-distressed floors provide a unique crafted look; Legacy, which offers the vintage feel of aged hardwood; and the Authentic Hand Scraped collection, with planks that showcase the wood's natural grain/character.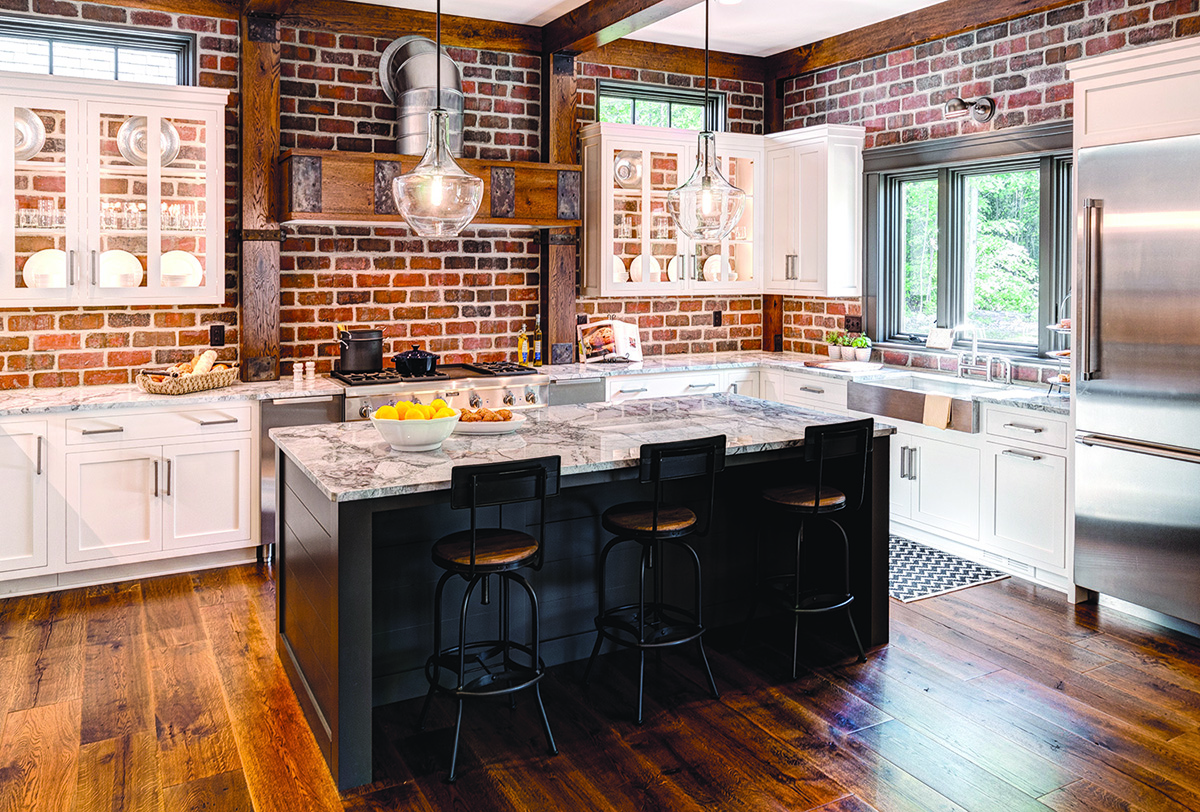 8. Cambria / Countertop Finish   
New from Cambria is Cambria Matte, available in eight designs across three collections. The matte finish provides a low-key aesthetic and on-trend visual sensibility with the same performance and maintenance-free features as higher- sheen Cambria products. The Matte option is currently available in the Marble, Coastal, and Waterstone collections.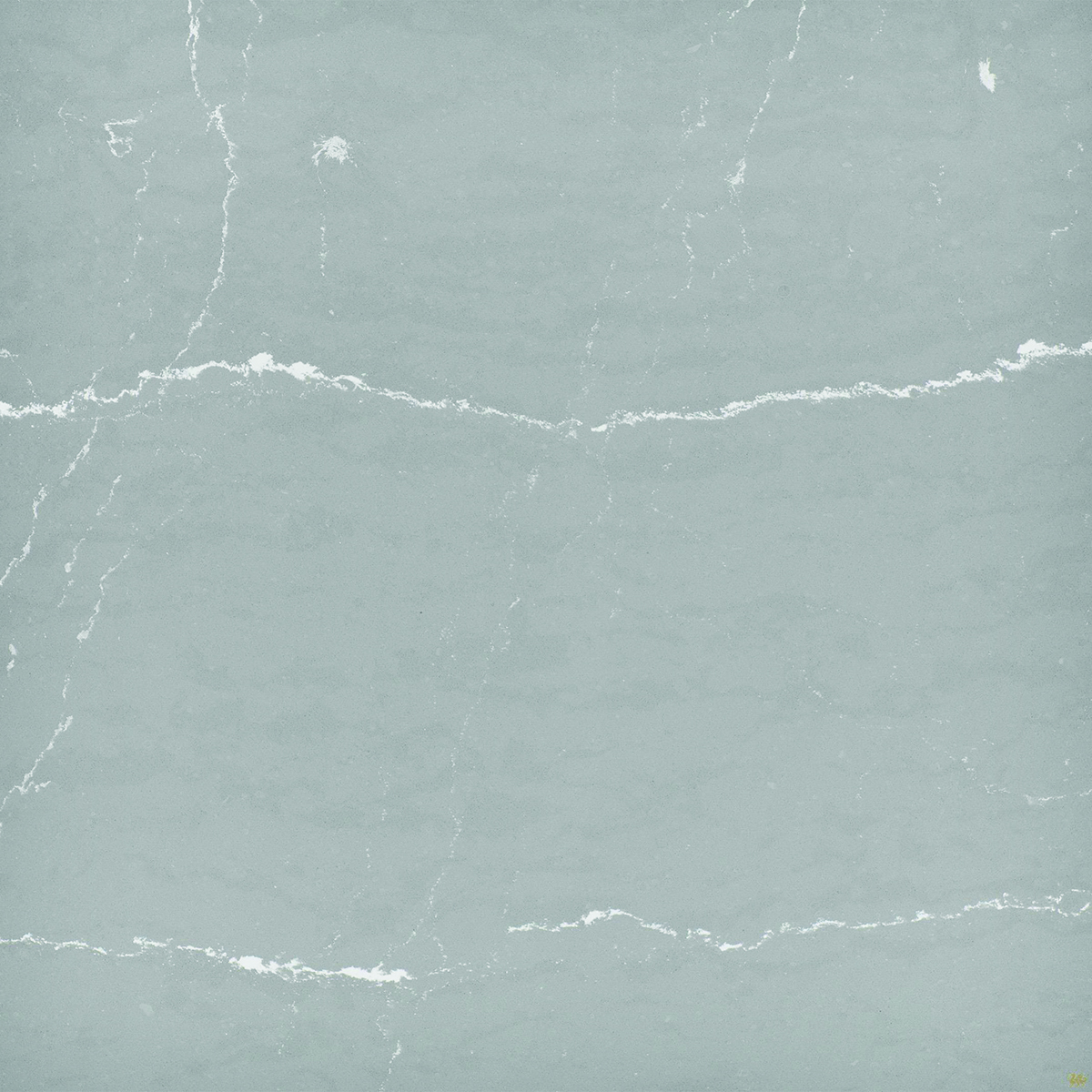 9. Huber Engineered Wood / Subfloor
The AdvanTech Flooring Panels from Huber Engineered Wood pair high wood density with advanced engineering to provide the bending strength, stiffness, and nail holding power needed to deliver a squeak-free floor. The advanced resins inside AdvanTech securely hold floor fasteners in place, helping to reduce nail pops as well as floor squeaks. AdvanTech is available in 4x8-foot panels and can be used under carpet, hardwoods, and tile and stone flooring.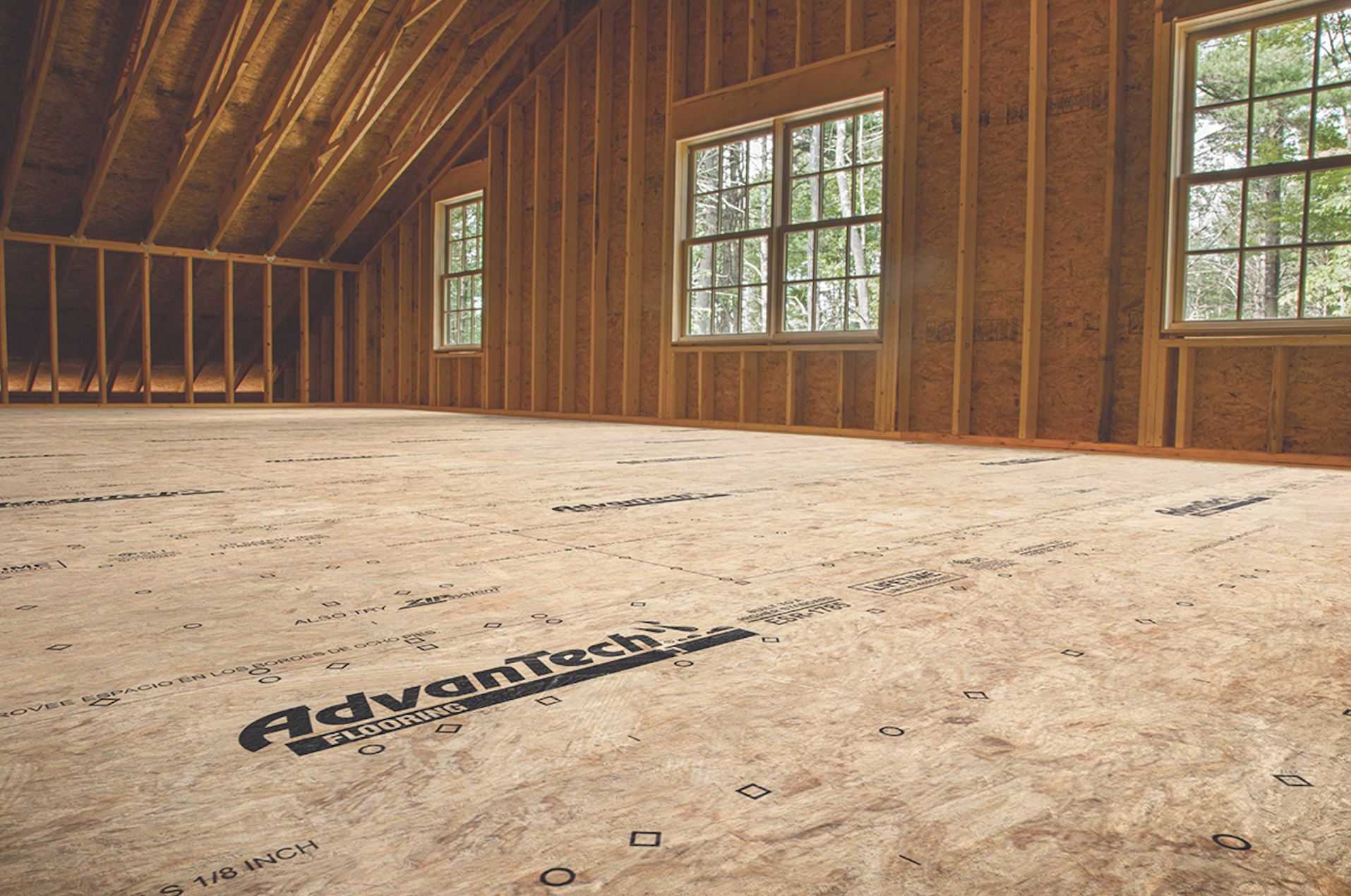 10. Top Knob / Hardware 
Inspired by the character of English harbor towns and villages, Top Knobs' Kingsbridge series is part of the Devon Collection. It features smooth, flat tops and slightly rounded edges. The series is available in eight sizes and eight finishes, including Ash Gray, Honey Bronze, Brushed Satin Nickel, Black, Polished Chrome, Polished Nickel, Sable, and Umbrio.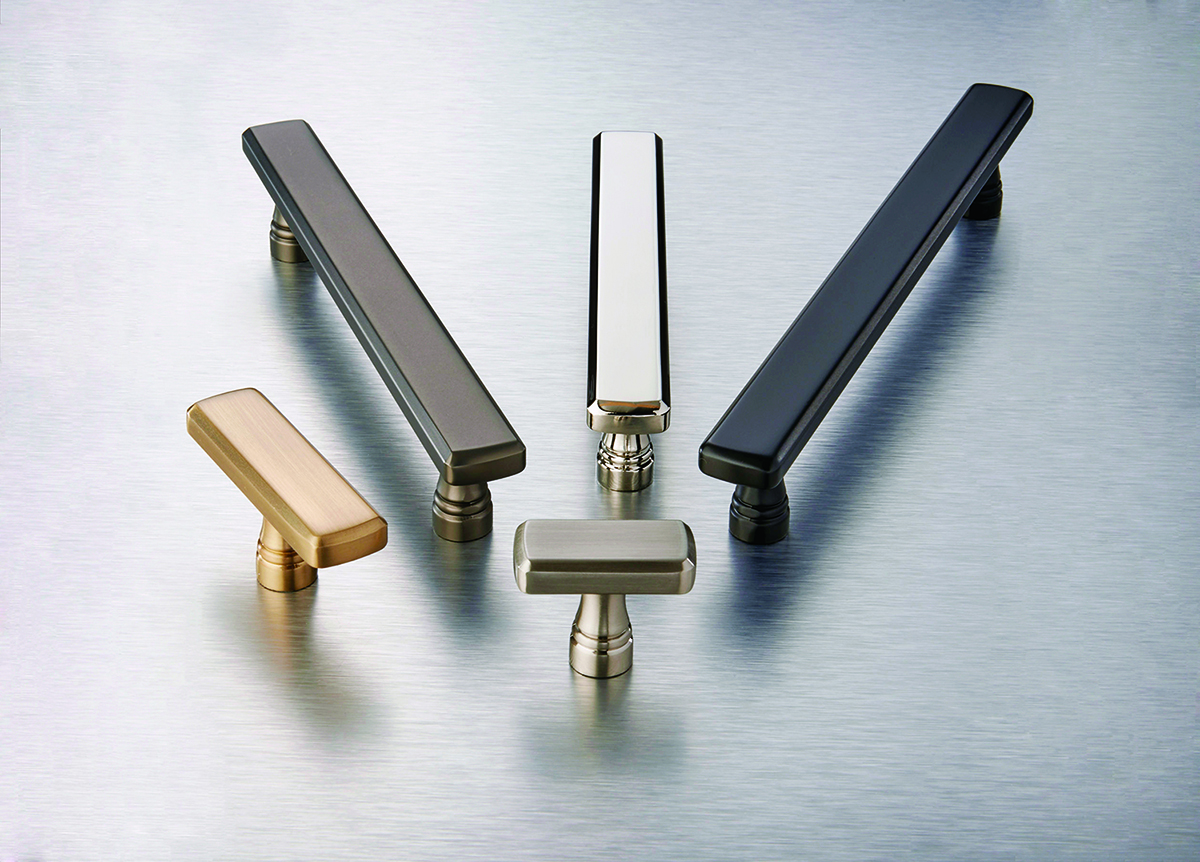 11. Wilsonart / Surfacing 
Curated Luxury is a new line of engineered surfaces from Wilsonart. The 24 laminate designs encompass a variety of options from the natural feel of limestone to the industrial chic of sealed concrete. The collection is divided into five categories: Rejuvenate, Uniquely Crafted Industrial, Artistic Experience, Simple Splendor, and Creative Intrigue. (Shown: Pearl Sequoia—Artistic Experience.)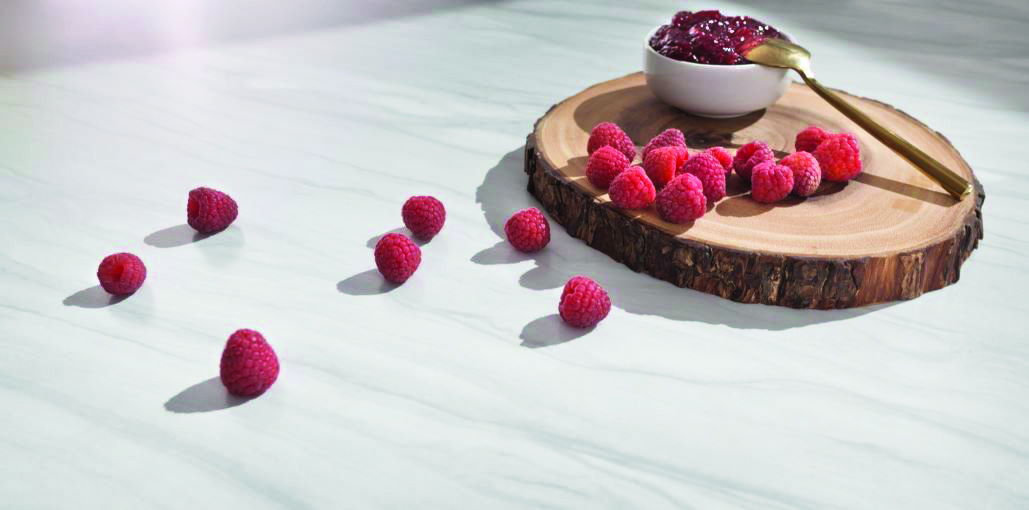 12. Napoleon Fireplace / Fireplace 
Created with patented technology, Napoleon Fireplaces' Clearion See-through Electric Fireplace is just under 44 inches wide and a foot high. The unit works well in transition spaces, such as between a kitchen and dining room, as it can heat separate rooms at different rates and warm an area of 800 square feet. Options include three flame colors and five speeds.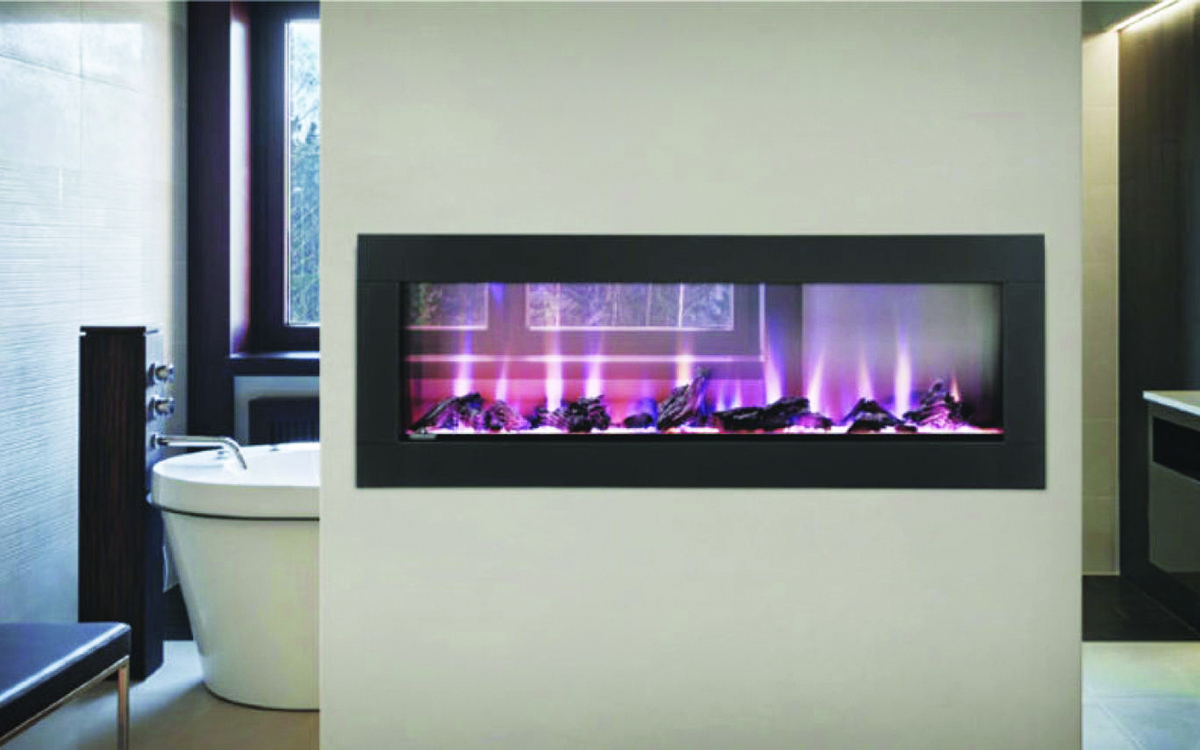 13. Selena USA / Drywall Adhesive   
The new formulation of Tytan Drywall High Yield Adhesive from Selena USA features an advanced polyurethane adhesive technology to fill gaps and prevent hollow spots. Unlike latex-based adhesives, its minimal shrinkage as it cures greatly reduces screw pops. The adhesive comes in a 29-ounce aerosol-delivered can with a high-yield formula that replaces 12 28-ounce cartridge adhesives. The can uses the reusable Tytan gun applicator, provides a higher yield than other applicators, and allows for more precise application.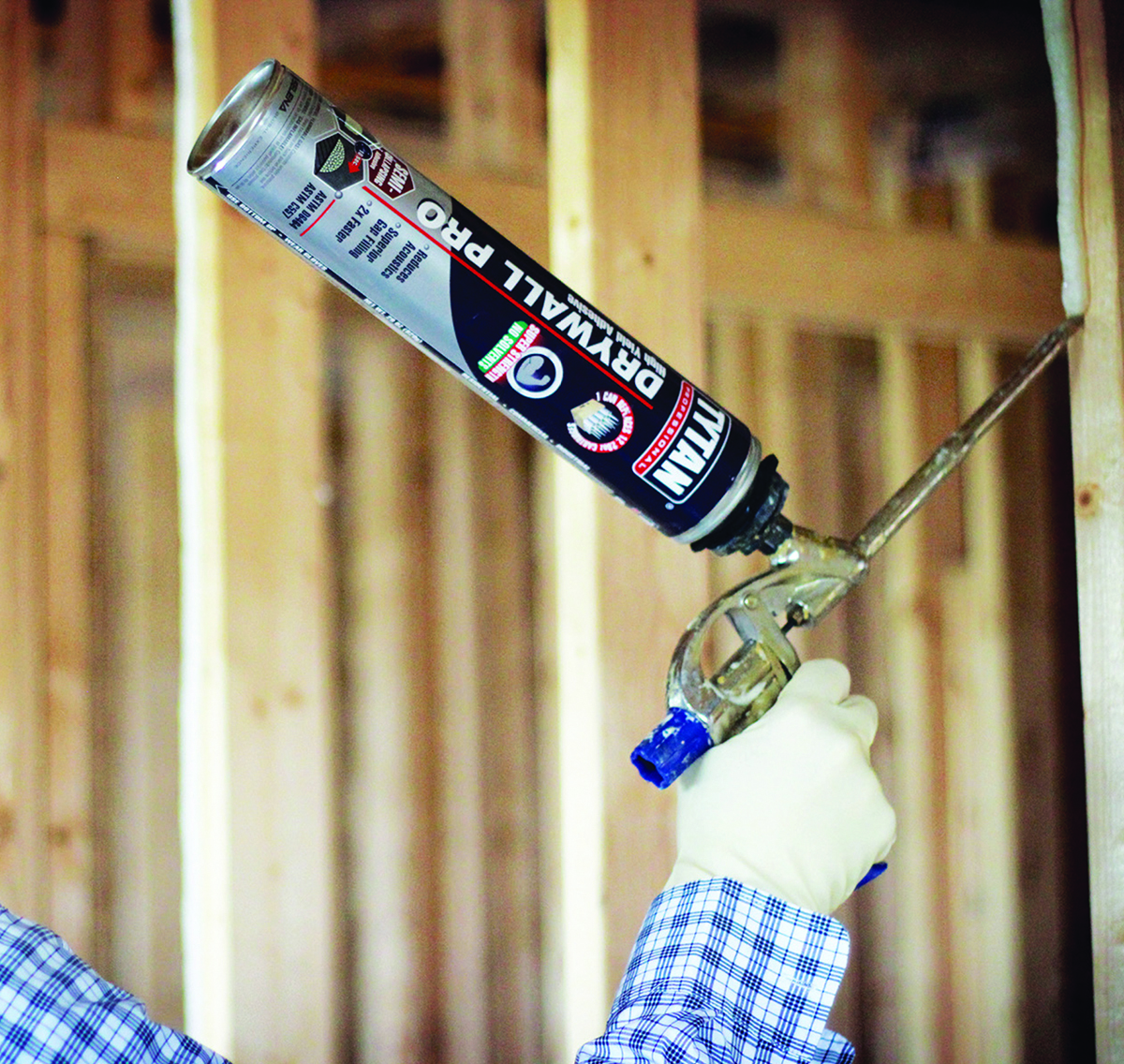 14. Ege Seramik / Porcelain Tile    
The GRACE Collection by Ege Seramik replicates the look of centuries-old marble, showing many color variations as stone would, yet offering the easy maintenance and functionality typical of high-quality porcelain tile. It resists most staining and comes in white, beige, grey, and olive, as well as three sizes (12x24, 24x24, and 24x48). This durable collection works for residential and commercial applications.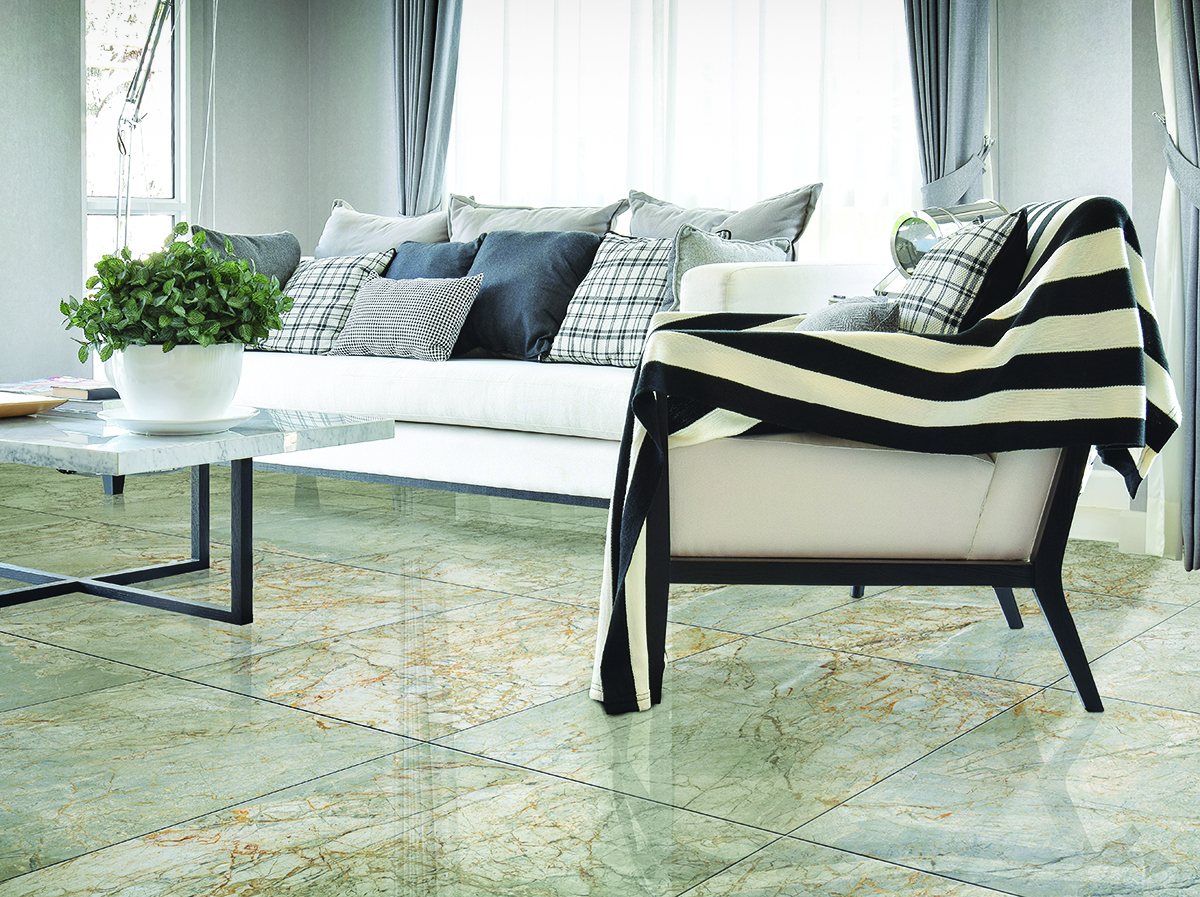 15. Ann Sacks / Glazed Porcelain Tiles    
Inspired by art deco, the Ermanno collection of glazed porcelain tiles by Ann Sacks shows slight color variations and irregularities within the pattern for a handcrafted appearance. Made in Italy and exclusive to Ann Sacks in the U.S., this collection works for indoor wall and flooring applications. Pavone (shown) comes in gold on black, gold on white, silver on black, silver on white, or stand-alone white.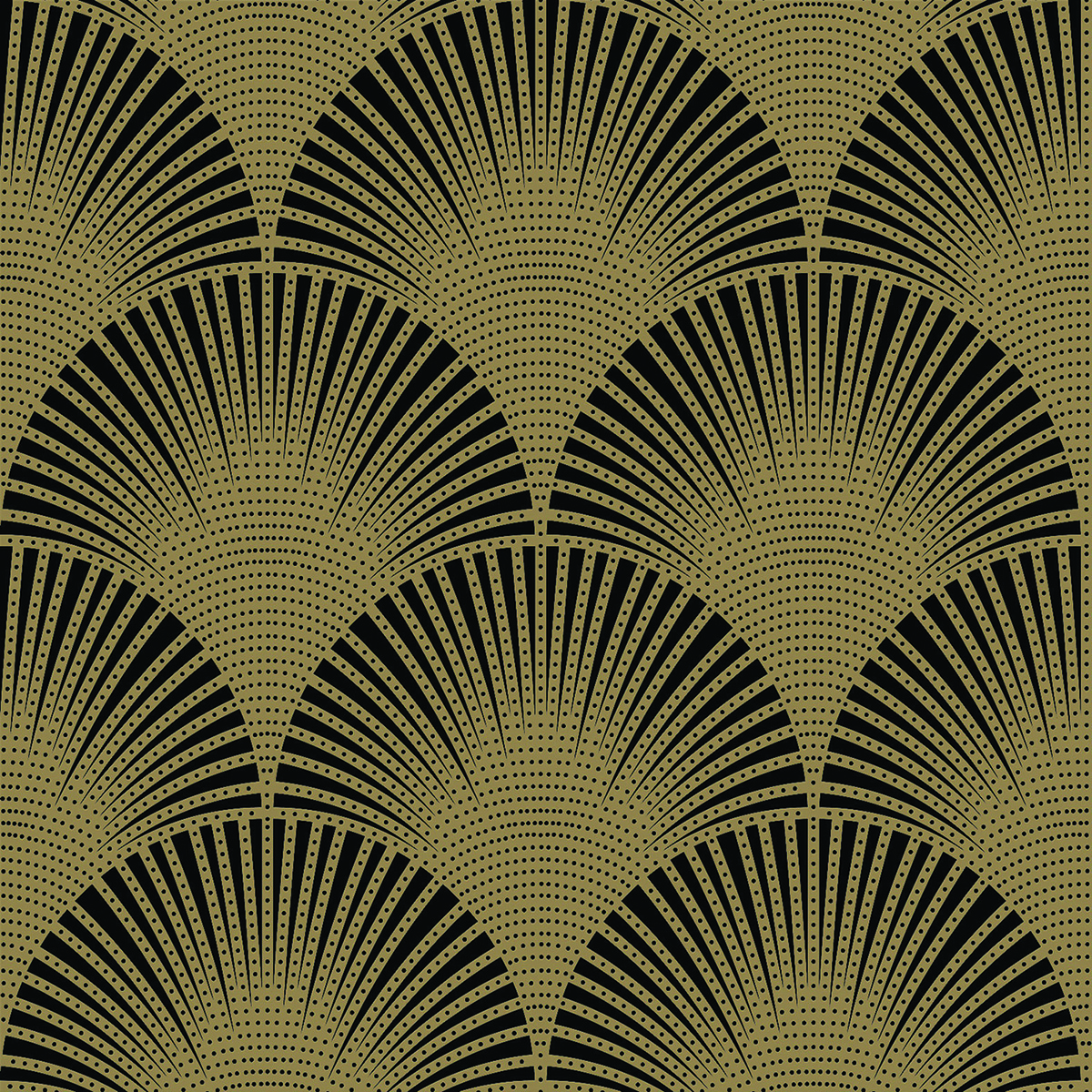 16. American Sealant Inc. / Multipurpose Adhesive   
ASI 5900 Fast Grab Hybrid Adhesive has low to no odor, is 100% solids, contains no solvents or isocyanates, and is Prop 65 compliant. Users report its strength and fast fixture time enabled them to use up to 50% less adhesive. It offers excellent adhesion to most common building substrates, including wet ones, and is stable at various temperatures. It can be used with panels, stone, sub-flooring, landscape adhesive, countertops, etc. 

17. Beauflor / Flooring   
Beauflor's Luxury Vinyl Roll with Blacktex felt textile backing combines the benefits of Luxury Vinyl Tile and Cushion Vinyl Roll into a new flooring category. Like all Beauflor vinyl products, LVR is soft underfoot; water resistant; and easy to install, clean, and maintain. Plus, LVR's sound- absorption ability noticeably reduces noise. Blacktex adds color and texture to 20 LVR styles.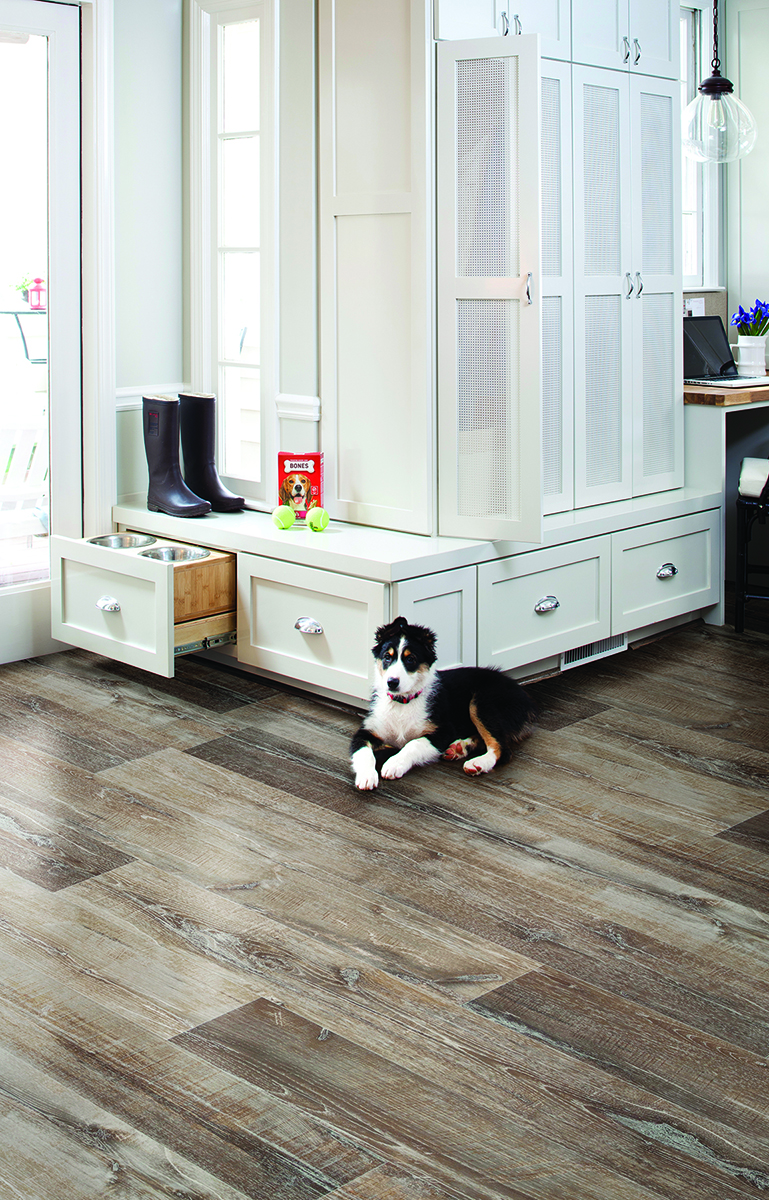 18. Crossville / Tile    
Crossville offers the Bohemia Porcelain Tile Collection in eight colors, with a durable and easy-to-maintain finish. Colors include bold, light-to-dark neutrals as well as blue and green offerings. The hues were inspired by, and named for, the boho-chic movement: Free Spirit (shown), Beatnik, Rebel, Wanderer, Artist, Drifter, Tinker, and Vagabond. Bohemia is Green Squared certified and recommended for interior floors, walls, countertops, and exterior walls.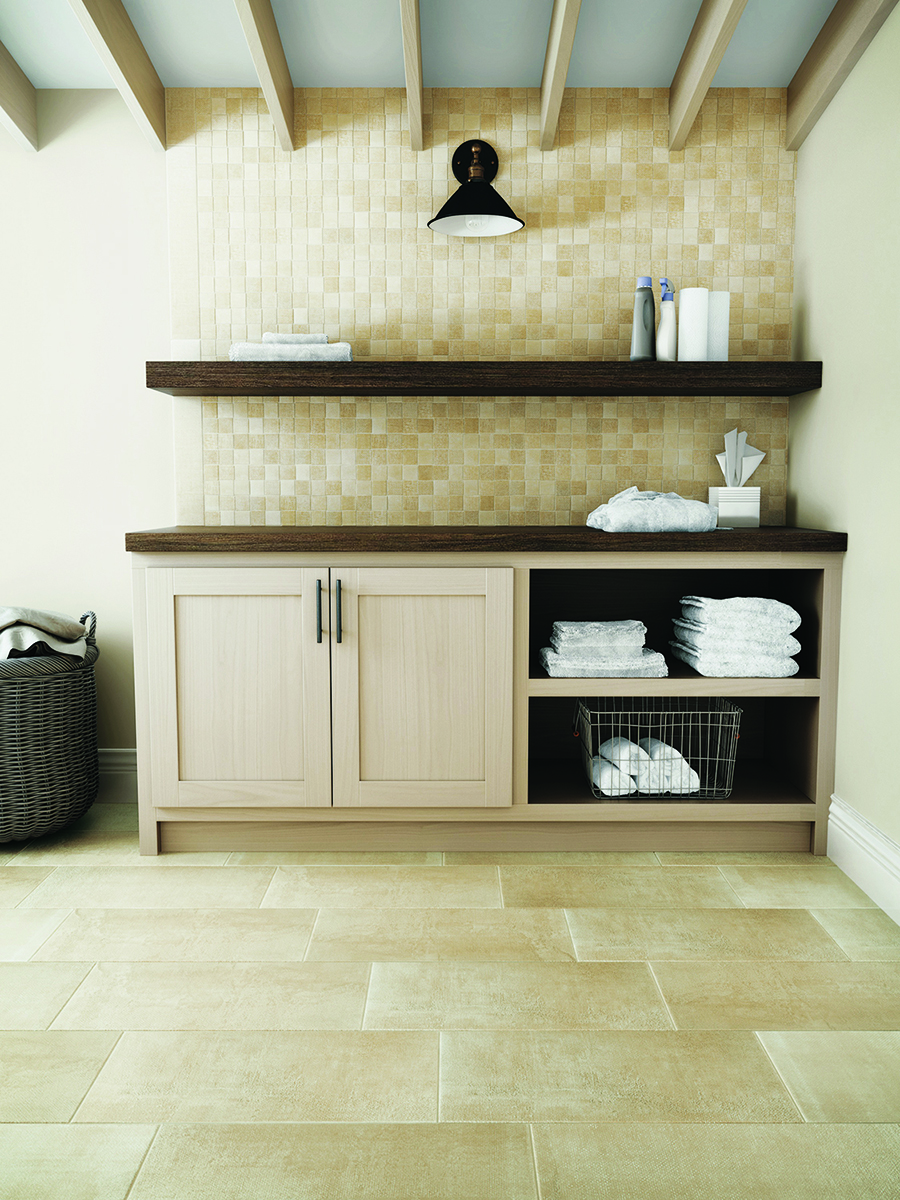 ---